Compared with air freight, sea freight has a longer delivery time and more complicated procedures, makes it hard for many people to understand the tracking of sea shipments.
What are In Transit, Loading, Sailing, Unloading, Entering warehouse? How to estimate the shipment arrival time? Estimated release date means I can receive the shipment on the same day? No worries, follow the guidelines below and you can estimate the time to receive parcel in the future!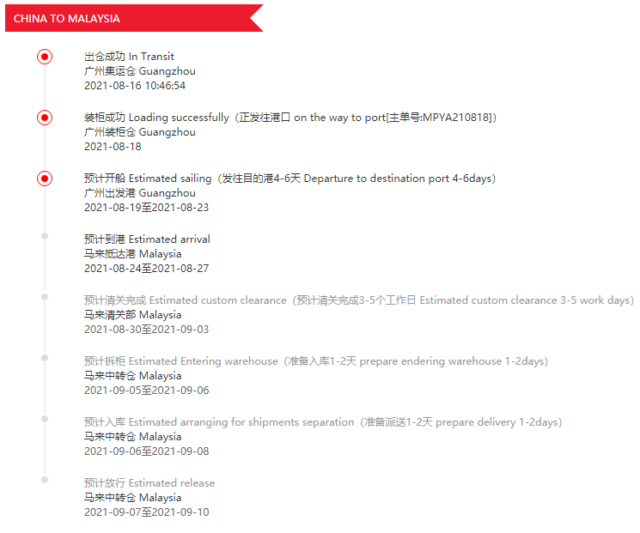 In Transit - the parcel is shipped from MYPOZ's Guangzhou warehouse to the container warehouse, and it is expected to take 1-2 days to arrive
Loading successfully - the staff has arranged all the shipments in the container, and it will take 3-4 days to deliver to the port
Estimated sailing - before the container is loaded onto the ship, it still needs to go through customs clearance, so it is estimated that it will take 4-6 days to arrive at the destination port
Estimated Arrival - The time from Chinese ports to Malaysian ports, if there are no third-party factors such as bad weather/port congestion, etc., it is expected to arrive in 4-6 days
Estimated customs clearance - After the container arrives in Malaysia, it needs to go through customs clearance before it can be released. This is done to combat smuggling and expose the smuggling of drugs/animals/plants/flammable and explosive items, etc. It may take 3-5 days to complete the entire customs clearance.
*****Reminder: Malaysian Customs usually conducts customs inspections before festivals. Most of the sea freight orders during the festive season may take 1-2 months to receive the goods.
Estimated entering warehouse & shipments separation - After customs clearance, the shipping agent will ship the container to the warehouse, take out all the goods, and then assign it to each courier for delivery. It will take 2-4 days to complete.
Estimated Release - The time the parcel is expected to be delivered
*****Delivery time depends on each courier company. Customers can contact the courier company for details. The entire shipping process is expected to take about 21-30 days.