Thailand to Malaysia Land Transportation
MYPOZ provides Thailand to West Malaysia land transportation.
Note for Thailand Shipping
*The customer is necessary to open a new code before sending shipments to the warehouse, otherwise the warehouse will reject them.
*The oversea customer service will update inbound within 2 working days once the parcel arrived at the warehouse.
*Customers will know the shipping fee within 24 hours after the order is place.
*Expected to receive within 7-10 working days after departing to Malaysia under normal condition.
*Please consult our customer service if you are uncertain of which can be shipped.
*The responsibility is borne to the customers who ship prohibited items and caused parcel loss or detained during customs inspection.
*If the packing of goods does not meet the specifications, our warehouse staff will inform the customers and apply for replacement.
*Customers are advised to purchase insurance for the parcel,if any accident happened, it can been fully compensated.
*If no insurance is purchased, the maximum compensation under the regulations is RM100.
*If the item has been insured, the scope of compensation is for the goods/parcels loss; compensation for any damages will depend on the degree of damage.
*For cargo insurance, please provide the complete information, such as: outer packaging photo, product photo, proof of purchase.
*For the customers who have not purchased the cargo insurance, the compensation is followed the freight regulations.
Delivery Guide
1)After receiving the goods, the warehouse staff will weight the goods and send the volume weight of the goods to the us and to our customer.
2) It is estimated to receive the goods within 5-7 working days after the departure date.
3)The freight will be provided within 24 working hours once the order is placed.
4)The MP code must be indicated on the package and waybill, otherwise the warehouse will reject it.
5)Warm reminder: if the packing of incoming goods does not meet the specifications, our warehouse staff will notify us and apply for replacing the packing.
6) Customer package must be marked with MP code to avoid rejection.
Thailand Shipping Procedure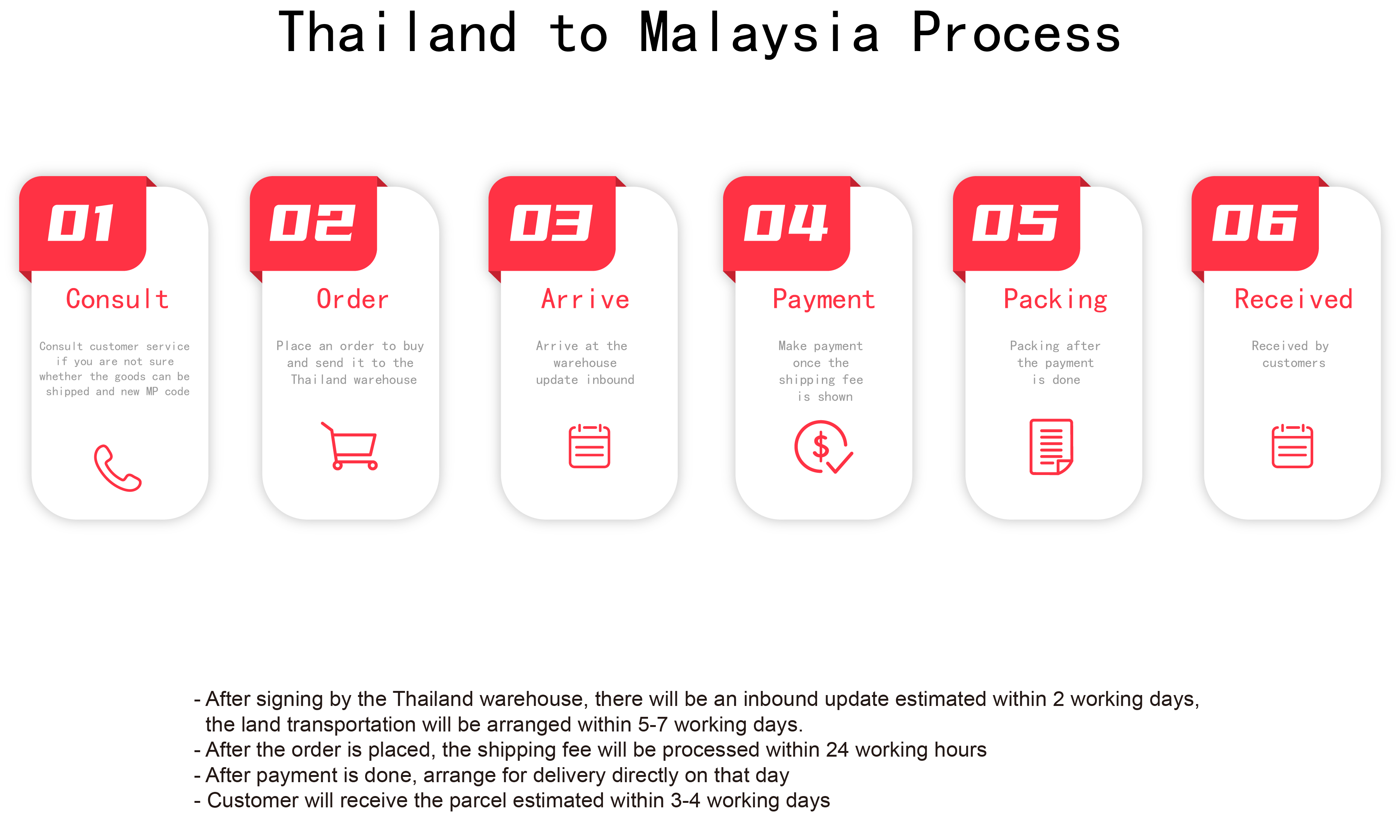 Storage service
Storage charges
Free 15 days storage charges
More than 15 days
In parcel, in units of 10 kilograms
Each parcel is RM1/ day
More than 30 days
Give up custody, destroyed.
Example:
15 days = Free storage charges, 16 – 30 days = Calculate storage charges, 30 days > = Parcel will be destroyed.